Summer activities for kids start at the library on July 11 at 2pm.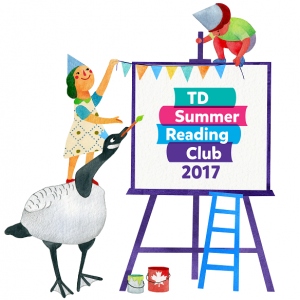 This summer's lineup includes the TD Summer Reading Club, Maker Kids, a visit from the Saskatchewan Science Centre, Read to a Dog, and more!
Kids ages 2 – 13 will have lots of fun at the library this summer. Our Summer Reading Club starts off on July 6 with a super fun party and games like hoop roll, pretend to milk cows, ring toss and other activities. For young children, ages 3 – 5, we will colour a Canadian flag, and for older children, ages 6 – 13+, we will make a Canada party hat with an LED light hooked to the top.
Teens can hone their creative writing skills with professional authors Peggy Worrell during the Sage Hill Teen Writing Experience from Tuesday, July 4 to Friday, July 7 from 10 am to 5 pm each day. This program is for young writers aged 14 – 18 years old.
Summer Reading Club activities take place every Tuesday at 2pm from July 11 – August 8.
On Tuesdays, July 11 through to August 8 at 2 pm, we will be having the TD Summer Reading Club for children ages 2-5. This is a story time program that includes books, rhymes, finger plays, crafts, puppet shows and Read to a Dog; Talla LOVES to have the children read to her.
Maker Kids' Club meets at 2 pm on Tuesdays, July 11 through August 8. This program is for children ages 6-13+. This program includes 3D designing using Tinkercad, making Pom-Pom Penguins, LED Beavers and button tree, also get chance of using Little Bits, Snap Circuits and Northern Light Pastel Pictures.
The Saskatchewan Science Centre and the Swift Current Branch Library presents: Go! Science on Friday, July 28 at 1 to 3 pm. This program is geared toward children in grades K-6 and is designed to create a fun and interactive learning experience; sessions include Rock Your Socks, Terrific Tech, and Brain Train. Come for all or any of the sessions and make cool things that you can take home.
At our Summer Reading Club Wrap Up Party, read a story with Shimmer; the literacy donkey. Mark the Wrap Up Party on your calendars for Thursday, August 17 at 1 pm.
If you would like more information about our summer programs, please contact Andrea McCrimmon or Tekeyla Friday at 306-778-2752.